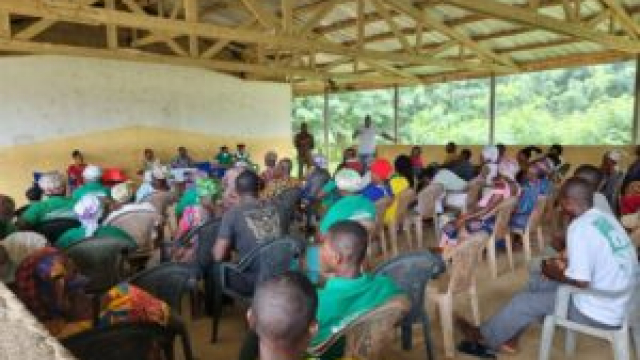 Thursday, September 15, 2022.
The Cervical Cancer Prevention and Training Centre (CCPTC) in Catholic Hospital, Battor working with the North Tongu District Health Directorate has started an organised (not opportunistic) cervical precancer and breast cancer screening in two towns (Fodzoku and Torgorme) in the North Tongu District of the Volta Region of Ghana. HPV DNA testing and Visual Inspection with Acetic acid (VIA) will be done for each woman for cervical precancer screening as well as clinical breast examination.
Unlike opportunistic screening, this model involves compiling community registers and calling every eligible women in the register for screening. Community volunteers in the two towns worked with the North Tongu District Health Directorate to come up with the community registers of women 25 years old and above.
In July this year, 3 midwives and a Community Health Nurse from the two towns were trained in Module 1 of the CCPTC's cervical (and breast cancer prevention programme) and are equipped to lead execution of the project in the communities.
This new model of organised community-based screening being championed by the CCPTC involves:
Discussions with the Opinion Leaders in the communities to make the communities own it and plan sustainability.

Involvement of the District Health Directorate.

Creation of community registers – 'census' of all women who are 25 years and above in the communities.

Trained health workers in the communities conducting the screening.
Where the communities have no trained health workers, arrangements will be made for trained health workers to go to the communities to screen the women.
[We encourage communities to invest in training resident health workers to offer the services sustainably]
All eligible women in the communities being invited for screening.

Women with precancerous lesions of the cervix may be treated onsite, or referred to the nearest institution where treatment can be given.

Women with breast lumps/abnormalities will be referred to the nearest facility for follow up/treatment.
The strength of this model lies in community involvement and ownership of the programme. At Fodzoku, The North Tongu District Public Health Nurse, Mr. Elagbe Goka, gave the first batch of items for screening to Mama Nyalewosi II, Queen Mother of Fodzoku Traditional Area. Mama Nyalewosi II then handed over the items to the nurses at the Health Centre. At Torgorme, Mr. Elagbe gave the items to Torgbe Gidi IV, Manklado of Torgorme Traditional Area. Togbe Gidi IV then handed over the items to the nurses at the Health Centre.
Staff of the CCPTC present were Dr. Kofi Effah (Head), Ms. Ethel Tekpor (Nurse in Charge) and Mrs Comfort Mawusi Wormenor.