Sunday, September 18, 2022.
Yesterday, the CCPTC team screened 90 commercial sex workers in Ho in the mPharma 10,000 Women Initiative. Three (3) of them with cervical precancer were treated onsite with thermal coagulation.
We hope to bring the mPharma 10,000 Women Initiative to an end in two weeks with a final outreach. We would have screened some 5,000 women in Ghana .
We have screened female head porters (kayayei), nuns, HIV positive women, women with sickle cell disease, diabetes… we went to Nzulezo (the village on water) to screen women… CCPTC Alumni across Ghana have also screened women in all the 16 Regions in the country.
It has been a great journey lasting a year. We have prevented many women from developing cervical cancer. The information we have gathered will be the biggest in cervical screening with HPV DNA testing in Ghana and we are confident will influence policy in Ghana.
We are grateful to mPharma for this opportunity. They have been great partners. We are also grateful to the CCPTC staff, all the CCPTC Alumni across the country who made this possible as well as the institutions and organisations that worked with us.
Special thanks go to Dr. Johnnie Allotey, Vice President, Diagnostics, of mPharma who conceived this idea of 10,000 Women Initiative (giving free HPV DNA testing to 10,000 women in Ghana and Nigeria). If we had more visionaries like you, our country would be different.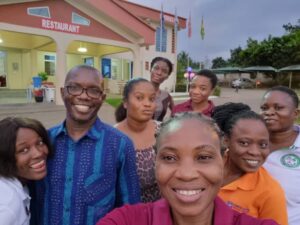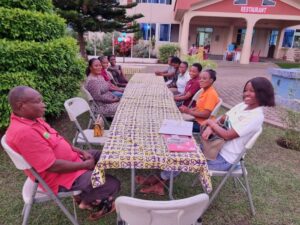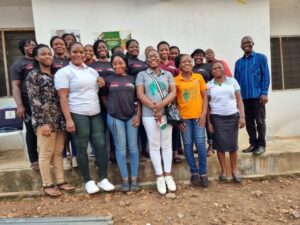 [18/09, 09:05] X: 90 commercial sex workers, and only 3 of them with cervical precancer?
[18/09, 09:16] Effah: Good morning.
There were others with precancer we didn't treat.
We shall follow them up. Some need pap smears or endocervical curettage/biopsy to rule out high grade lesions in the endocervical canal.
We are waiting for the HPV DNA test results.
Remember we had high risk HPV prevalence rate of 47.6% when we screened 84 inmates in Nsawam Prison in another project in 2019.
[18/09, 08:35] Y: Awww, but 5k not 10k achieved
[18/09, 08:36] Effah: Thank you.
Mpharma is screening an additional 1,000 women in Ghana. This is 'corporate' – banks etc, using self-sampling with the Evalyn brush… That makes it 6,000 women in Ghana.
Nigeria will screen 4,000 women.