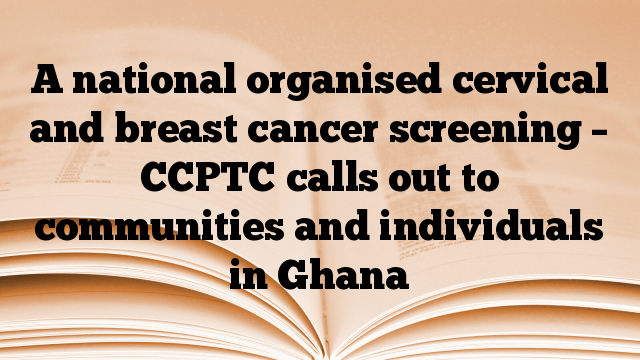 Tuesday, September 13, 2022.
The Cervical Cancer Prevention and Training Centre (CCPTC) in Catholic Hospital, Battor is leading a new model in cervical precancer (and breast cancer) screening across Ghana. The aim is to move from opportunistic to organised screening and offer the opportunity for all eligible women in communities to be invited for screening.
This model requires community acceptance and involvement and involves:
Discussions with the Opinion Leaders in the communities to make the communities own it and plan sustainability.

Involvement of the District Health Directorate.

Creation of community registers – 'census' of all women who are 25 years and above in the communities.

Trained health workers in the communities will conduct the screening.
Where the communities have no trained health workers, arrangements will be made for trained health workers to go to the communities to screen the women.
[We encourage communities to invest in training resident health workers to offer the services sustainably]
All eligible women in the communities will be invited for screening.

Women with precancerous lesions of the cervix may be treated onsite, or referred to the nearest institution where treatment can be given.

Women with breast lumps/abnormalities will be referred to the nearest facility for follow up/treatment.
With about 300 health workers (CCPTC alumni) trained across Ghana, the CCPTC believes Ghana is ready for organised cervical and breast cancer screening programmes.
Interested communities and individuals that would like to sponsor screening of women in their communities can contact the CCPTC on 0558187888.