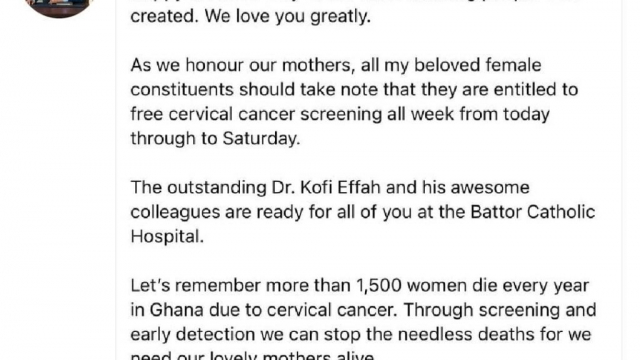 I received comments on Hon. Okudzeto Ablakwa's gesture to get free cervical precancer screening in his constituency for the whole week (as a 'gift' to women in his constituency on Mother's day).
Several people believe that Hon. Okudzeto Ablakwa is one of the parliamentarians who can push through parliament for a national cervical cancer screening programme in Ghana paid for by the National Health Insurance Scheme.
Some comments:
1st person
Kofi , kindly ask the Honourable Okudzeto to use his influence in Parliament to advocate for reasonable tariffs for Cervical Cancer Screening by Certified Health Personnel. The total cost of administering Herceptin to a client with Breast Cancer at a cost of about Ghc4000.00 per dose for a total of 18 doses ie Ghc 72000.00 is enough to cater for 3600 clients 'VIA at Ghc20.00 .Herein lies the inequity in our NHIS. Ansa na Krɔbɔfoɔ bɛhu sɛ nwa ɛyɛ dɛ no na Asante Akyemfoɔ awe ma asa.Have a blessed week and what an appropriate gift to the North Tongu Mothers on the day they are being celebrated worldwide.
Kindly post this to him and let him verify as a.Lawmaker how much NHIS has spent on Herceptin for how many women so far.
Can he take up an advocacy role in Parliament for cervical cancer screening to be made nationwide as you suggested?
2nd person
In the history of the NHIS, mostly, it is the MPs of the party in opposition who usually get things approved and added or given
The main issue has to do with how we can use the NHIS to pay for it and still ensure that there are no abuse by providers. Also, how to ensure there is nationwide capacity so no region or district will be disadvantaged
Some people think that adding benefits to the NHIS is just a matter of announcing that so so and so service is part of the NHIS. However, it requires that we are sure the service is needed, is available and cost effectively provided.
There are a lot of people who just want avenues to squeeze more money from the system as possible, not thinking of the future.