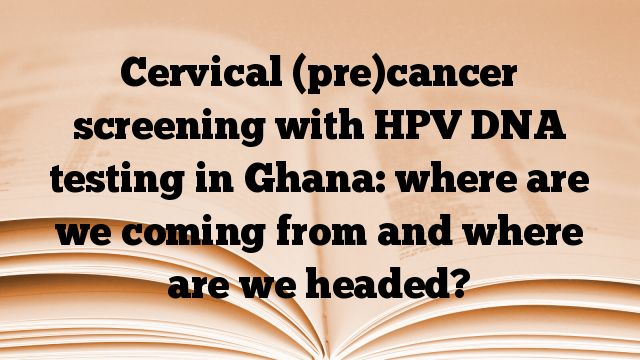 Sunday, May 15, 2022.
Thirteen (13) years ago, I visited some CHPS (Community-based Health Planning Services) Compounds in North Tongu District (now split into North and Central Tongu Districts) with the Public Health Nurse in Catholic Hospital, Battor. At that time, cervical screening with HPV DNA testing was coming up in some countries in the world. The tests were expensive. Hybrid Capture II by Qiagen was the 'gold standard.' Qiagen was developing a low cost version of Hybrid Capture II called CareHPV. After my rounds in the district, I was convinced that the future of cervical precancer screening in Ghana was in using a low cost version of of HPV DNA testing for screening using the Community Health Nurses in the communities (in the CHPS compounds). Cervical Screening in Ghana was sporadic then with pap smears done in a couple of institutions and Visual Inspection with Acetic acid (VIA) even less common.
I shared my views about HPV testing being the future for Ghana. Many did not understand me. I had exchanges with a renowned professor in Ghana on this (emails shared below). He thought I was asking for too much. He believed in a 'central register' like in the UK for a 'call and recall' system. I believed that would take a very long time, that we could do it in a decentralised way using community registers.
Later, I made a prediction that cervical precancer screening with molecular testing (HPV DNA testing) would become as simple as pregnancy tests. The challenge would be how to deal with the screen positives. Screening alone does not prevent cervical cancer. Following up the screen positives and treating precancerous lesions of the cervix so they don't progress to cancer are what any successful programme needs. There seemed to be no effort in place to build capacity across Ghana to follow up screen positives and the cervical precancer.
I remained persistent. With support from the management team in Catholic Hospital, Battor, the Cervical Cancer Prevention and Training Centre (CCPTC) was set up in 2017 and we are trying to build capacity across Ghana to do exactly what was envisaged some 13 years ago.
Even before the CCPTC was set up, we used crowd funding to raise money to purchase Qiagen's CareHPV system to start HPV DNA testing in routine clinical practice in Battor in June 2016. A lot of preparations went on before this including training nurses to follow up screen positives with VIA and mobile colposcopy, training nurses to manage cervical precancer with cryotherapy and thermal coagulation, and developing algorithms to standardise care.
Fast forward to 2022. The World Health organisation now recommends HPV DNA testing for cervical precancer screening. The CCPTC has trained over 250 health workers across Ghana in cervical cancer prevention skills. Community Health Nurses, General Nurses and Midwives are screening women in communities (some taking samples for HPV DNA testing for some laboratories in the country to run the test). Nurses are treating precancerous lesions of the cervix with thermal coagulation in the communities. A positive legacy from the Covid-19 pandemic is that Ghana has many PCR platforms (used for Covid testing) which can be deployed for HPV DNA testing in cervical precancer screening.
The vision 13 years ago is becoming a reality. The country still does not have a central register for a 'call recall system' (and we do not know how long it will take to get one) but the CCPTC and the trained health workers from the CCPTC have demonstrated that the way to go for Ghana is decentralised testing in the communities. We need to push for community registers across the country and use them to invite women for screening. We need to train more health workers and equip them to screen for cervical precancer and treat them to prevent cervical cancer. Finally we must push for cervical precancer screening and treatment of precancerous lesions of the cervix to be covered by the National Health Insurance Scheme. When this is done, women will not have to pay from their pockets to be screened, and we can reach out to many more women especially those who currently cannot afford the services.
Dr. Kofi Effah is a gynaecologist and head of the Cervical Cancer Prevention and Training Centre (CCPTC) in Catholic Hospital, Battor in the North Tongu District of the Volta Region of Ghana.
Emails from 2010 (discussion with the professor on HPV DNA testing in decentralised settings in Ghana):
From: Prof.
To: Kofi Effah
Sent: Thu, 2 December, 2010 12:02:48
Subject: Re: Screening for cervical cancer – the Cobas test
Kofi,
That is not what I am saying. Everybody seems to think that merely changing the method of screening will solve our current problem. My contention is that it will not until the basic problem, which is establishing the proper INFRASTRUCTURE FOR A COMPREHENSIVE SCREENING PROGRAMME (that covers ALL ELIGIBLE WOMEN) is addressed. Whatever screening test we choose we will be faced with these basic questions:
How do we invite women to come for screening? – Opportunistic screening will not allow for wide enough coverage to make any difference in morbidity and mortality. We also cannot just announce that women should report at screening centres to be tested. We will need to come up with a systematic way of letting each eligible woman know WHEN TO GO FOR HER TEST.
How do we ascertain who has responded to call for screening and who has not?
What do we do for women who test positive with the screening test?
How do we trace women who default treatment or follow-up?
When these questions are answered we can now tackle what screening test is appropriate for our setting and what kind of human resource we need based on the type of test and treatment or management policy for positive test results.
So, for example, if we choose HPV testing as the screening test we will still have to answer those 4 questions. Of course there are other questions like age range of women to be tested, frequency or interval of testing, quality control procedures, information systems and type of data to be collected, types of reports to generated by whom and when, guidelines on implementation, monitoring and evaluation, etc that also need to be sorted out.
These all need the contribution of everybody involved in or concerned about cervical cancer prevention and control. We also will need to have a policy and guidelines on primary prevention or vaccination.
The problem we are faced with is that setting up the right infrastructure taking all these questions into account is expensive. The system itself is very expensive to run. What screening test to use is the least of our problems.
From: Kofi Effah
To: Prof.
Sent: Thu, 2 December, 2010 14:01:23
Subject: Re: Screening for cervical cancer – the Cobas test
Dear Prof.,
You remember I made mention of the Community Health Officers (CHOs) in the CHPS zones. I believe they are our hope for the future, as they work in the primary care setting. I believe they can do the initial screening with HPV. They are in the communities, have the community registers, can do home visits, and follow up on those who default.
They give me hope for a national screening programme. We need more CHPS zones in the country.
My hope is that we can do something in the North Tongu District in the near future to show that this is possible.
We need more centres (as you write), that can manage the screen positives. I hope this also starts soon as more doctors and nurses are trained in colposcopy, VIA, and how to perform cryotherapy and LEEPs.
Kind regards,
Kofi Effah.
From: Prof.
To: Kofi Effah
Sent: Thu, 2 December, 2010 13:04:12
Subject: Re: Screening for cervical cancer – the Cobas test
Kofi,
How does this answer the fundamental questions? You are talking about human resource but you left out the major issues untackled.
From: Kofi Effah
To: Prof.
Sent: Thu, 2 December, 2010 14:19:19
Subject: Re: Screening for cervical cancer – the Cobas test
Prof.,
Getting trained Community Health Officers answers 3 of the 4 questions – inviting the women, ascertaining those who have responded, and tracing those who have defaulted.
Then comes how to manage screen positives. I mentioned training doctors and nurses in colposcopy, VIA, performing cryotherapy and LEEP.
You wrote that the 4 questions should be answered first?
Kofi.