Thursday, April 14, 2022.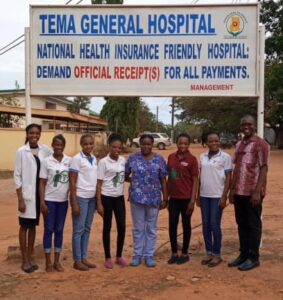 The team from the Cervical Cancer Prevention and Training Centre (CCPTC) in Catholic Hospital, Battor was at the Tema General Hospital to offer screening (with concurrent HPV DNA testing and mobile colposcopy).
The CCPTC team was supported by 3 midwives of Tema General Hospital who are alumni of the CCPTC: Ms. Angela Mawunya Katso, Ms. Christiana Afful Akonnor and Ms. Josephine Nketsiah and other staff of the hospital.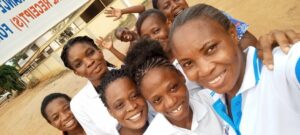 It was great seeing the Medical Director of Tema General Hospital, Dr. Richard Anthony. Dr. Richard Anthony (then a Resident at the Department of Medicine and Therapeutics in Korle Bu Teaching Hospital) taught Dr. Kofi Effah, head of CCPTC as a House Officer over 20 years ago.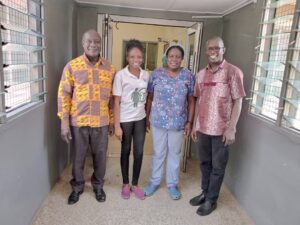 Dr. Anthony is a firm believer in the cervical cancer prevention work of the CCPTC and sent midwives from Effia Nkwanta Regional Hospital in the Western Region to the CCPTC when he was Medical Director of the hospital. He also sent midwives from the Tema General Hospital to the CCPTC as Medical Director, and invited the CCPTC for this screening programme.
Screening continues in two weeks.