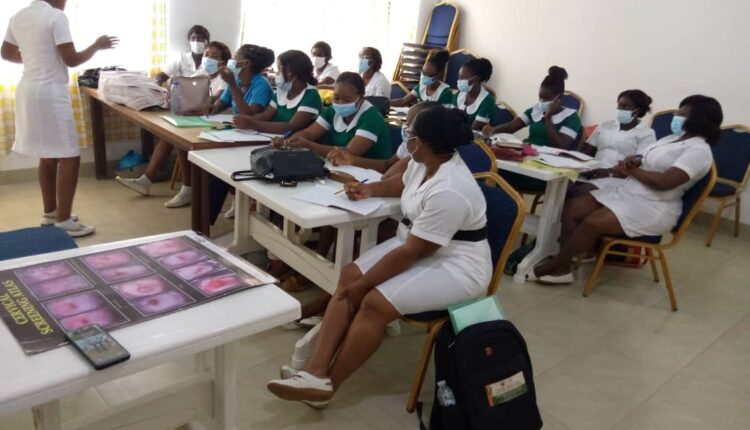 Thursday, July 1, 2021.
Catholic Hospital, Battor
Cervical Cancer Prevention and Training Centre (CCPTC)
Our 14 trainees were taught how to make their own cotton swabs (and sterilise them) for Visual Inspection with Acetic acid (VIA) and colposcopy.
Our programme focuses on 'local solutions for local problems' as much as possible. A couple of years ago, we got our acetic acid (vinegar) from South Africa. We got our Monsel's solution (Ferric subsulphate – for haemostasis/to stop bleeding) and Trichloroacetic acid (TCA – for treatment of warts), Lugol's iodine from Europe. It was not economically attractive for people to produce these locally for just a few centres.
With our training programme bringing many facilities on board, it has become attractive to produce these locally. Our acetic acid (vinegar), Monsel's solution and Trichloroacetic acid (TCA), Lugol's iodine are now produced in Ghana.
We hope that an entrepreneur will see an opportunity soon to produce disposable/plastic specula locally. They are now in a huge demand across the country for cervical precancer screening.
There is strength in numbers.