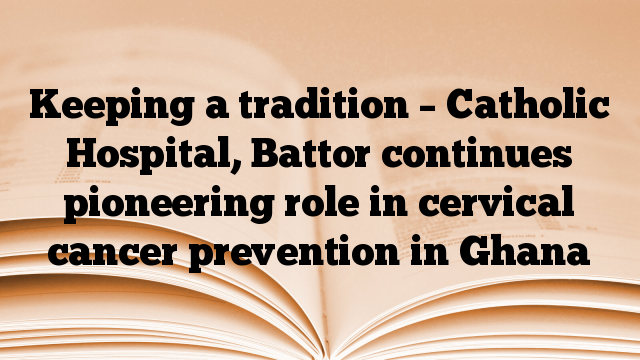 Tuesday, September 27, 2022.
The history of cervical cancer screening/prevention in Ghana cannot be written without Catholic Hospital, Battor.
CERVICAL CANCER SCREENING/PREVENTION IN GHANA: CONTRIBUTION AND LESSONS FROM CATHOLIC HOSPITAL, BATTOR
The mPharma 10,000 Women Campaign has seen another pioneering role in cervical precancer screening by Catholic Hospital, Battor. In this campaign, mPharma offered free HPV DNA testing for 10,000 women in Ghana and Nigeria (6,000 in Ghana, 4,000 in Nigeria). The Cervical Cancer Prevention and Training Centre (CCPTC) in Catholic Hospital Battor worked with the CCPTC alumni across Ghana (300 health workers trained so far) to offer screening across Ghana with HPV DNA testing and Visual Inspection with Acetic acid (VIA).
This is the first such screening with HPV DNA testing across Ghana and we hope it opens the way for a national cervical precancer screening programme.
History of cervical cancer screening in Ghana:
International Journal of Gynecology & Obstetrics
Volume 43, Issue 1 p. 63-64
Cervical cancer screening; first results and future directions in Ghana
S.W.K. Adadevoh
B.K. Forkouh
To the Editor June 20th, 1993
…
…
The prevalence of pre-invasive cervical carcinoma in Ghanaian women has never been studied. We are now able to report the results of a 4.5 years mass cytological screening program carried out from January 1988 to July 1992 at a Mission hospital in Battor, Ghana.
…
…