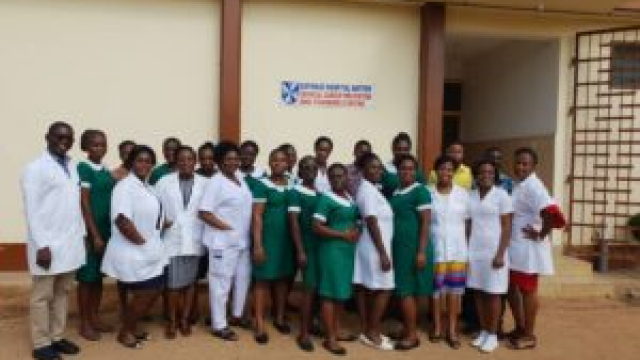 Sunday, May 29, 2022.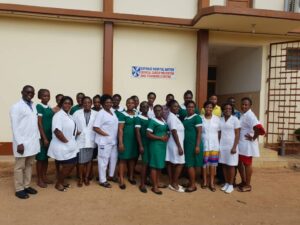 The Cervical Cancer Prevention and Training Centre (CCPTC) in Catholic Hospital, Battor celebrates its 5th anniversary on Tuesday, May 31, 2022. It has been a journey full of lessons worth sharing, especially with other low (middle) income countries.
Current estimates indicate that every year 2,797 women are diagnosed with cervical cancer and 1,699 die from the disease in Ghana. Cervical cancer is the second leading cause of cancer in women in Ghana after breast cancer [1]. While cervical cancer is very preventable with primary prevention (HPV vaccination) and secondary prevention (screening and treatment of precancerous lesions of the cervix), Ghana has no national HPV vaccination programme and less than 3% of eligible women are screened for cervical precancer [1]. Many women therefore present to health institutions with advanced cervical cancer [2].
Another challenge has been the educational system in Ghana. Sadly, generally, emphasis has not been placed on bringing out graduates equipped with practical skills to solve our problems. There is a big difference in theoretical knowledge and practical skills. This is clear in cervical cancer prevention. Most nurses, midwives, Physician Assistants and Medical Doctors (including Specialists) graduate without the skills to screen for cervical precancer and treat precancerous lesions of the cervix to prevent cancer.
With these gaps identified, the CCPTC was established in 2017 to build human capacity across Ghana (and in other low resource settings). Thanks to the Catholic Hospital, Battor Management team especially the Administrator Mr. Donatus Adaletey, the Medical Superintendent, Dr. Hayford Atuguba and then Nurse Manager, Mr. Philip Diame, support was given to achieve the vision [3]. A 'revolution' in cervical cancer prevention had begun in Ghana [4].
The vision was to create a sustainable system not dependent on external funding. This was not easy, but we knew it is possible. A lot of work was done. Two modules were developed for the training. Module 1 equips trainees with the knowledge and skills to set up a screening unit and screen for cervical precancer. Module 2 equips trainees with the knowledge and skills to treat precancerous lesions of the cervix with thermal coagulation and cryotherapy. These modules are higher than the traditional training in Visual Inspection with Acetic (VIA) and involves some training in Basic Colposcopy [5, 6].
We needed money to buy equipment to be able to perform at the highest level. With our experience in crowd funding [7], we used crowd funding to to get a thermal coagulator for treatment of precancerous lesions of the cervix. Ms. Belinda Effah and her daughter, Ms. Michelle Tinkorang donated another thermal coagulator. Other individuals and organisations that believed in our vision also supported us. The Rotary Club of Accra East donated two mobile colposcopes (EVA systems) for our work [8]. Dr. Koku Awoonor, through the NGO, Phoenix Resource Centre Global Aid Ghana (PRCGA) donated 3 mobile colposcopes to the CCPTC and mobile colposcopes and mobile beds to 4 alumni of the CCPTC to support our work [9, 10].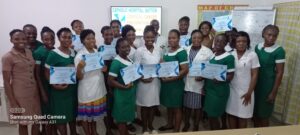 The Tema Lions Club has donated GHS 35,000 in instalments for training of some health workers in Ghana [11]. An anonymous donor in the USA donated $25,000 for training. Forty-two (42) health workers from 23 health institutions in the Upper East and Eastern Regions of Ghana were trained with this amount. The Member of Parliament of North Tongu, Honourable Samuel Okudzeto Ablakwa bought a real time PCR machine for HPV testing at $16,000 for our work. This subsidised cervical precancer screening with HPV DNA testing and has made screening with HPV DNA testing at the CCPTC the cheapest in Ghana [12, 13].
We are grateful to them all and to others who have supported us in diverse ways but have not been mentioned here.
While there have been challenges, including the Covid-19 pandemic disrupting our training programme [14], we have been highly successful and made progress with some great innovations. The CCPTC launched an app for screening for cervical precancer in June 2018 making it easy for health workers anywhere to use our algorithms [15]. Many items needed for cervical cancer screening like Acetic acid (kitchen vinegar), Lugol's iodine, Trichloroacetic acid (for treatment of warts), Monsel's solution (to control bleeding after a biopsy) that were imported are now produced in Ghana for our work because we now have the numbers that need them to make local production financially attractive.
The CCPTC has so far trained 271 health workers (nurses, midwives, physician assistants, medical doctors) in 184 institutions in 119 (out of the 216) districts in all 16 Regions in Ghana. We have trained two nurses in Liberia and a medical doctor from Sierra Leone. More health workers across Ghana continue to be trained at the CCPTC. In 2021, we involved the Department of Surgery in Catholic Hospital, Battor and included screening with clinical breast examination in our training programme. This means apart from the training in cervical cancer prevention, our trainees are now taught early detection of breast cancer. Our alumni are now picking up breast cancer early across the country. These have offered a great opportunity to have a cervical cancer prevention programme combined with an early breast cancer detection programme across Ghana using simple tools.
Our staff at the CCPTC have worked hard training all cadres of health workers. The have screened women in all corners in the country including screening head porters (kayayei), commercial sex workers and prisoners [16]. Our alumni across the country are also screening women in communities that would otherwise not have seen this for many years. Our main limitation has been the fact that cervical precancer screening is not covered by the National Health Insurance Scheme (NHIS) so many women in remote communities cannot pay for screening. Hopefully cervical precancer screening in Ghana will be covered by the NHIS in the near future.
I share our experiences because I believe there are lessons for other settings like ours in Ghana and across the world [17, 18].
I take this opportunity to congratulate our staff, Nurse in Charge, Ms. Ethel Tekpor, Mrs Comfort Wormenor, who have been at the centre from the beginning, as well as the 'newer' staff Ms. Belinda Klutse, Ms. Edna Sesenu, Ms. Georgina Tay and Ms. Faustina Tibu. To our IT team, Mr. Dominic Agyiri, Mr. Famous Afudego, Mr. Elorm Stephen Danyo and others, and the Laboratory staff led by Mr. Isaac Gedzah and Mr. Seyram Kemawor, I say congratulations!
May we have the strength to continue with the vision.
Dr. Kofi Effah is a gynaecologist and head of the Cervical Cancer Prevention and Training Centre (CCPTC) in Catholic Hospital, Battor, in the North Tongu District of the Volta Region of Ghana.
References
Ghana, Human Papillomavirus and Related Cancers, Fact Sheet 2021, ICO/IARC HPV Information Centre.

Dunyo P, Effah K, Udofia EA. Factors associated with late presentation of cervical cancer cases at a district hospital: a retrospective study. BMC Public Health. 2018 Oct 3;18(1):1156. doi: 10.1186/s12889-018-6065-6. Erratum in: BMC Public Health. 2018 Nov 7;18(1):1243. PMID: 30285699; PMCID: PMC6171232.

Battor Hospital opens first Cervical Cancer Prevention and Training Centre.
https://www.ghanaweb.com/GhanaHomePage/NewsArchive/Battor-hospital-opens-first-Cervical-Cancer-Prevention-and-Training-Centre-666332

A revolution in cervical cancer screening in Ghana
https://www.mobileodt.com/blog/a-revolution-in-cervical-cancer-screening-in-ghana/

TogetHER Case Study: Building capacity to address cervical cancer in Ghana
https://togetherforhealth.org/case-studies/
https://togetherforhealth.org/wp-content/uploads/TogetHER-Case-Study-Ghana.pdf
Making cervical cancer information, screening and treatment accessible to all women in Ghana. WHO cervical cancer elimination initiative newsletter, June 2021. Available from: https://worldhealthorganization.cmail20.com/t/ViewEmail/d/E50974E993B075022540EF23F30FEDED/38CFCDB67EDC6E3A4BD7C9066BE4161D

Effah K, Amuah JE, Dunyo P, et al. Raising Funds Through Social Media to Subsidise Cervical Cancer Screening with HPV Testing in Rural Ghana – The Battor Experience. J Health Care Poor Underserved. 2021;32(3):1136-1144. doi: 10.1353/hpu.2021.0118. PMID: 34421017.

New deployment of EVA System in Ghana with Rotary Club of Accra East
https://www.mobileodt.com/news/new-deployment-of-eva-system-in-ghana-with-rotary-club-of-accra-east/

NGO empowers Battor Catholic Hospital to fight Cervical Cancer
https://mobile.ghanaweb.com/GhanaHomePage/health/NGO-empowers-Battor-Catholic-Hospital-to-fight-Cervical-Cancer-637802

4 health personnel get NGO's support to fight cervical cancer
https://mobile.ghanaweb.com/GhanaHomePage/NewsArchive/4-health-personnel-get-NGO-s-support-to-fight-cervical-cancer-747980

Tema Lions Club supports training for cervical cancer prevention
https://www.graphic.com.gh/news/health/tema-lions-club-supports-training-for-cervical-cancer-prevention.html

Okudzeto Ablakwa presents cervical cancer screening machine to Battor Catholic Hospital
https://mobile.ghanaweb.com/GhanaHomePage/NewsArchive/Okudzeto-Ablakwa-presents-cervical-cancer-screening-machine-to-Battor-Catholic-Hospital-754848

Effah K, Tekpor E, Gedzah I. Introducing AmpFire HPV testing in cervical precancer screening activities: experience from Battor, Ghana 2021. https://www.hpvworld.com/articles/introducing-ampfire-hpv-testing-in-cervical-precancer-screening-activities

Together for Health interviews on Covid-19: Perspectives from Key Leaders in Global Cervical Cancer Control
Kofi Effah, Head, Cervical Cancer Prevention and Training Centre, Catholic Hospital, Battor,  Ghana.
https://togetherforhealth.org/the-together-interview-dr-kofi-effah-the-cervical-cancer-prevention-and-training-centre-in-catholic-hospital-battor-ghana/

Battor Hospital develops apps for cervical cancer diagnosis. The Daily Graphic Monday, June 18, 2018.
https://www.graphic.com.gh/news/general-news/battor-hospital-develops-apps-for-cervical-cancer-diagnosis.html

Acheampong LK, Effah K, Amuah JE et al. Determining the prevalence of high-risk human papillomavirus infection using a novel cervical precancer screening approach in incarcerated women at the Nsawam Medium Security Prison, Ghana. ecancer 2021, 15:1248 https://doi.org/10.3332/ecancer.2021.1248

Cervical Cancer Prevention: Successes Of Battor Catholic Hospital A National Clarion Call
https://www.modernghana.com/news/866188/cervical-cancer-prevention-successes-of-battor-catholic-hos.html

Let's learn from Battor Catholic Hospital. Editorial, The Daily Graphic Monday, June 18, 2018.
https://www.graphic.com.gh/daily-graphic-editorials/let-s-learn-from-battor-catholic-hospital.html