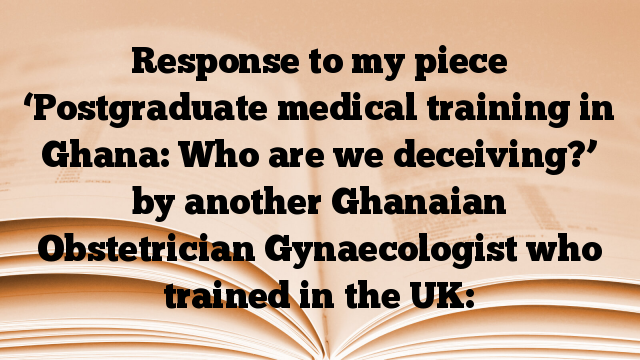 Response to my piece 'Postgraduate medical training in Ghana: Who are we deceiving?' by another Ghanaian Obstetrician Gynaecologist who trained in the UK:
Hmmm ,
This training issue in battor is a significant loss to the nation. Unless you've never been to battor … it's without doubt the busiest operative gynae department in the country, sorting out 60-80 gynae surgeries a month ( emergencies excluded ).
The productivity of this unit is staggering … not to add to this the fact that this unit is also a massive contributor to gynae oncology care in the country … again everyone knows this …. but despite all this …. there's no accreditation or recognition for training, and while this may sound like an odd joke …. it is the nation / OBGYN trainees / women with gynae pathology who are suffering on account of this anomaly ….
We always seem to have some good reason why we can't acknowledge the good work ..fellows Ghanaians are doing …. any wonder why there's not much interest in KANTANKAs 4x4s …
To the hard working doctors leaders of Battor .. who go out every day to do such backbreaking & selfless work for our many Ghanaian women with gynae morbidity …. I say AYEKOO . You are my heroes. Posterity will judge favorably . Keep up the good work & Well done !